The technical knowledge of MDDHosting's support is where I believe there true strength lies – The speed of responses, even to extremely difficult questions (and that's coming from a sysadmin) is incredible.Mix the crazy good support with the quality servers, value for money packages and good uptime/security.. And you've got one hell of a host, well worth your consideration.
90

Performance

99

Accessibility

95

Reliability

85

Cost

80

Service

Overall
Detailed Review of MDD Hosting
MDDHosting is a medium sized business privately owned, that prides itself on offering a no BS approach. They can be quoted as saying "We do not see our clients as a dollar sign or as a number" they are nice words, but what makes them a breath of fresh air is that they have backed it up by their actions. Formed in 2007 with a clear vision of who they wanted to be and how they wanted to do it, they have kept operations low key and have no plans to sell out. I like the fact that they don't bite off more than they can chew and they stick to what they do and do well.
"Unlike most web hosts we don't hide who we are!" ​
They talk the talk and from my experience they can walk the walk, the service is truly pain free. Who is their target market? everyone wanting to create and operate a website. Especially those new to website creation and need plenty of support. "No holding back, if you want to create your own online real estate we want to help you do that" I can say from personal experience that the sign up process and the installation processes are very easy and I never felt overwhelmed (pretending I was a newbie). It's as straight forward as it possibly can be.
A couple of years ago MDDHosting was at the maximum limit of growth, they were limited by resources and hardware. ​ No more rrom at the inn. In businesses like this, if you stay still you die. To future proof against such limitations MDDHosting sought out NimbleStorage and jointly partnered to create the Highly Available Network Storage solution. Using this system MDDHosting now has the ability to increase server resources on a single or large scale allocation, continuous scaleability is possible with ease.
Not being limited by hardware has certainly helped MDDHosting increase their profile, and the partnership with NimbleStorage is proving very rewarding for both parties and everyone is a winner
There's a lot that good with MDD Hosting but the biggest downside is the downtime. They score pretty poorly and compared to most other hosts the difference is noticeable. However, we have high expectations and it really depends on your website if it's a major concern for you or not. If your website sells a product or service than more so.
MDD Hosting Features
Speed
​In terms of speed MDDHosting uses LightSpeed and the pairing work like absolute magic. Looking at an average page load speed of 605 ms calculated over 45 days this is pure bliss. The speed of MDDHosting is 20% faster than other hosts we have tested, no slouch on giving you the need for speed. For those who are not sure why this is important. It helps on a few levels. It has some impact on how Google perceives your website, but just as importantly, if not more, having a website that loads slower than 3 seconds seriously affects your website's ability to convert. 40% of people just don't bother to wait and those that do are likely to be frustrated which is not the ideal buying mood.
605msPage Load
The LightSpeed pairing provides subscribers websites with unparalleled load speeds, if you want to have a super fast browsing experience for your visitors MDDHosting all the way. The Premium and VPS hosting plans are extremely fast, the basic shared hosting plan is fast but is limited as it is a shared hosting.​
Reliability
From our experience hosting companies have a bad habit of being creative with their statistics, especially when it comes uptime statistics. We don't take any hosting at their word instead we run our testing to be able to tell our readers with confidence just how reliable a hosting provider is.
Compared to other hosting providers, MDD Hosting are not with the pack leaders. They offer 98% uptime where with others you can expect. almost perfect uptime.
How important is it? Well, it really depends on how big and how important uptime is. For example, if you have a larger site, with more monthly visitors or an eCommerce with plenty of traffic then every time the website is taken off line it's translates to a loss of revenue. You are losing money. However, if your website is new or doesn't have a lot traffic than being down for a short period of time is really not going to make much of an impact to your ability to make money. So it really is a matter of what your need is
Customer Support
When a company excels at something they need to be commended, MDDHosting has superior customer support. The times I contacted support I waiting no more than 6 minutes and an average of 4 minutes, the staff were mostly very technically skilled. I was only handed to a more technical operator when fishing for answers, I would say I wasn't being difficult more just asking about the how they calculated downtime percentages.
Methods of contact include, Support ticket submit, Telephone Monday to Friday 8am to 5pm and direct email.
In my experience with MDDHosting I would say the average response time was 5 minutes. They claim response rates of 6 minutes, but I didn't wait more than 6.6 minutes per support request. I also sent a screenshot of my error message, I think this also moves you up the list of responses as you come prepared. I always send screenshots of exactly what my problem, is so that the support person can prepare an answer then contact me, saving both of us time. That's just a little tip that works for me and should help you get seen better, and get you your answer faster.
​A good knowledge base can save a company a lot from time wasting support requests, Increasingly more and more people prefer to find their own information than put a support ticket so it's a good option to do both but spend some time to make sure the knowledge base is no just lip service. It's also very important to highlight that you do have a knowledge base. When a new customer signs up MDDHosting provides the information that makes life easier, providing the sections on their website where to log support tickets and find the knowledge base. Thats smart business, I found everything I needed with ease and even answered my own questions about the emails as described in the above emails section.
As you can see below the knowledge base is set out very simple to navigate everything is categorised and has a bunch of answers for you.
Conclusion
"A good all rounder for those good hosting option for people that plan to scale and want to stay with one host!"
After running this test project for over 45 days I can say that MDDHosting is a very solid offering. It's good if not great value for money. For smaller websites, there are better options out there. I am a big fan of HawkHost for quality of performance and reliability but I wish it had MDDHosting's attention to customer support, although they both take advantage of their knowledge base. If better support matters to you then I would fully recommend MDDHosting as your go-to hosting.
There's a lot to other under the bonnet. You will enjoy a unlimited usage policy that is all in your favour and the support from well equipped operators. The datacentre and server doesn't try to scrimp and save on quality.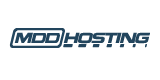 Contact Details
Locations