If you have an individual blog or small business website and you want to pay as little as possible, then you're looking in the right place because that's exactly what Lithium are offering. For as little as $3 a month, you get a solid hosting package that rightfully should be turning your head right.
They offer a VPS cloud solution that offers good value and they have SSL certificates and a bunch of other features that you might need when setting up your small website. I really like the fact that they have decided to focus on one type of hosting solution, rather than try to offer a little bit of everything.
At the end of the day, if you had a problem with your heart, would you prefer to been seen by a general doctor or by a cardiologist. No brainer, right? So they've specialized in shared hosting that can be scaled up into VPS cloud hosting when necessary. Perfect, and they really deliver. Read the rest of the review to see what strengths and flaws their hosting offers to see if it's good fit for you.
80

Performance

85

Accessibility

80

Reliability

85

Cost

50

Service

Overall
Detailed Review of Lithium Hosting
Founded in 2006, the lean startup decided right from the first days that they wanted to focus on offering the most cost effective hosting solution available for individuals and small businesses. It was absolutely critical to the Lithium team that affordable didn't mean sub par. Performance was important too.
Their individual hosting packages are perfect for small business owners and individual bloggers. But at the same time, they are set up to be able to be functional for larger businesses, for example, they have unlimited ftp logins, unlimited emails and SQL databases. With data centers in the US (Tampa, Florida) and Europe (Nurnberg, Germany), they are set up to be able to deliver good hosting to customers based around the world.
Without wishing to get overly technical, they use server hardware that support a gigabit uplink across the two data centers. The servers are protected by redundant power supplies, redundant power, HVAC and fire protection. Similarly, their software uses Linux-Apache-MySQL-PHP. That's all really impressive for any shared hosting, especially for one so affordable.
They are not just a 1 trick pony, they offer some flexibility for customers with more specific needs that include Perl / CGI-Bin, PostgreSQL, Python / DJango, or Ruby on Rails if you (or your developer) prefers. SSH access and Cronjob support. This is all from the standpoint of being one of the most affordable hosting providers online today. Lithium are serious hosts. They have to be when they are so affordable. They have be very precise in how they operate to keep delivering on performance and make a profit, which is exactly what they appear to do. At least from my perspective and from checking out the various customer reviews online too.
Lithium Hosting Features
Speed
As Top Gun's finest once said. " I feel the need, the need for speed" and that's never been more true than when looking for a hosting service. People just don't like to wait, they've become impatient. With page loading speeds, anything longer than 3 seconds an estimated 40% of website viewers click away to another site. It's incredible just how impatient we've become as a society but you are not going to change behaviour so you really should make sure that your website loads quick enough.
We do our own testing when it comes to page load speeds, to ensure neutrality. I'm pleased to report that Lithium did really well. Our benchmark is 3 seconds. If you struggle to deliver quicker page load speeds than 3 seconds then you have no right being in the hosting business.
Lithium speed tests came in at 1.57 seconds. That quick. For this type of hosting package it's probably in the top 5 and at this price point, that's the kind of data that makes you sit up and take notice. Really impressive. It shows that their goal of offering great performance at the best price is actually more than just empty words.
Reliability
With the type of technology available today, it starts to feel that a hosting company has to be really lazy if they don't run at near perfect uptime. I was curious just how well Lithium compared to the other shared hosting providers.
From our own experience, we don't really have an issue. 100% uptime. They actually guarantee 99.7% uptime, which is smart. It means they get to over deliver and not disappoint. Checking our customer reviews online I would say they're delivering for their customers across the board.
You can't underestimate how important reliability it. It can really affect the bottom line. We don't and it's pleasing to see that Lithium have a similar opinion. They more than deliver enough reliability so you have complete of mind when it comes to uptime.
Customer Support
We were thinking that there must be a catch. Great performing host with good reliability at an amazing price, so surely there must be an issue somewhere. The let down is in customer support. It not bad, bad. It's just not as good as it really could be.
You'll find that most customer reviews online fall into two distinct categories. Those who have never had an issue with their website, they praise Lithium endlessly, because they've just had reliable hosting that's pretty damn quick. The other category of review praise everything but the support. It's slow.
But here's the deal. If you're using the hosting for a small personal blog or a business website, which is their target customer, then you are not going to need a lot of technical support, hopefully never. So having customer support that could be better might actually not be the biggest issue. A reasonable compromise to make for a fantastic price.
Conclusion
" if you want to know why Limithium are award winning then try them, you won't be disappointed"
If you have a large e-store or a platform or membership website. Then keep on walking, this is not the host for you. They specialize in providing shared hosting solutions for individuals and small businesses. If that's you and your budget is tight but you don't want to miss out on performance then Lithium is the right hosting provider for you.
They are very affordable, they are quick and they are reliable. They are good, and they know it which is why they go the extra mile and offer a 1 month free trial. That's not a 30 day guarantee, you get the try it first before you go ahead and put your hand in your pocket.
There is a small 'but'. The customer support is average. They obviously have to cut a corner somewhere because they are so cheap. They want to make a profit and to do that, they make some cuts with their customer support.But then it's pretty sensible. Most customers we run a small business website or a personal blog have much need for support, there's not a lot that can go wrong to make average customer support an issue. As that's their major customer base most customers never feel that they are not receiving the support they need and they get to take advantage of great pricing.
Lithium are serious hosting providers who made the promise to offer performance at a great price. Which is exactly what they've done and it makes them one of the best options for a shared host available today. We've been very pleasantly surprised.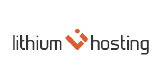 Contact Details
Locations