GreenGeeks Hosting do exactly what they say as they provide affordable and reliable hosting for your webpage. They have been a leader in the industry since 1998 and that means they have managed to rack up an impressive 19 years of experience. Inevitably, you will be asking some questions before you decide on what hosting service you decide to go for, but we will do our best to iron out any potential questions and provide you with information on everything that GreenGeeks has to offer.
99

Performance

90

Accessibility

95

Reliability

88

Cost

80

Service

Overall
Detailed Review of GreenGeek Hosting
GreenGeeks have been a leading force in the hosting sphere since 1998. That gives them plenty of experience and thousands of happy customers so far.
They claim to have hosted and powered over 1 million websites since their conception, and that's one hell of a lot of websites. GreenGeeks appear to get a lot of their traffic because they turn something as complicated as web hosting and turn it into something that's cheap, understandable and easy to follow. They handle all of the technical stuff on the back-end, and the paying customer just needs to change the on-site appearance so that their website looks like how they imagined it always would.
It does appear that GreenGeeks is aiming its hosting services at first time website owners, that's because of the simplicity that they're providing. That's not to say that it's not for the experienced user too. Plenty of the 1.5 million domains registered with GreenGeeks are from customers with more than one website.
And, just in case GreenGeeks couldn't get any cooler, they literally use the cool breeze to power your website. All of their servers are kept running thanks to 100% wind energy!
GreenGeek Hosting Features
Speed
As Top Gun's finest once said. " I feel the need, the need for speed" and that's never been more true than when looking for a hosting service. People just don't like to wait, they've become impatient. With page loading speeds, anything longer than 3 seconds an estimated 40% of website viewers click away to another site. It's incredible just how impatient we've become as a society but you are not going to change behaviour so you really should make sure that your website loads quick enough.
Reliability
GreenGeeks say that they aim to have 99.99% uptime. Uptime is one of the key things for potential hosting sites since if you own a website you don't want it going down every five minutes and rendering it useless.
They actually manage to keep to a 100% uptime most months, meaning that they don't even go down for a second or two. Of course, some months they may have downtime for changes to the servers but they're likely to last less than a minute or two and be hardly noticeable for anyone using their websites.
Not only do they have an impressive uptime, but they also have an impressive speed level. For example, if you're using them to host your WordPress blog, you're not going to have your site load any slower than someone paying $20 a month. One negative to their speeds, however, is that we would probably note that it's possible that speeds will go downhill if you were using their $1.99 service to try and run an incredibly complex site.
But, saying that, GreenGeeks boast that their 1.5million domains cover a whole host of different requirements, from business, residential and personal circles, so they're clearly doing something right.
Customer Support
We've already mentioned this a couple of times before but it's certainly worth bringing up again. GreenGeeks have a 24/7 customer service support that puts them at the top of the hosting food chain. Many website owners find themselves working deep into the night and something going wrong at an ungodly hour can be incredibly stressful. Having 24 hour chat supports mean you don't need to panic if anything does go wrong.
The customer service team themselves are helpful and quick to try and solve whatever you have wrong with your website.
However, if you have completely broken the website in one way or another and it's not something that one of the lesser-experienced chat support employees can solve, then you're best to send an email support ticket and wait for a detailed response.
Conclusion
" if you want to know why Limithium are award winning then try them, you won't be disappointed"
In conclusion, GreenGeeks have proven why they've been one of the leading hosting operators for the last 20 years. They run unparalleled when you cross-reference their pricing with the different features and services that they manage to offer all of their customers.
If you're starting out new with websites then this will be a perfect choice for you. And it doesn't really matter what you're looking to get into either. You'll be well-suited if you're just doing a blog, and you'll also be well-suited if you're going as far as running an e-commerce business.
You may think that a hosting at such a low pricing means you'll be sacrificing a lot, but you really aren't. You'll be getting free promotion for your new site with $300-worth of marketing credits across Google and Yahoo, and you'll also be given all of the site-building tools that you'd ever need as a beginner individual.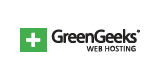 Contact Details
Locations