Cloudway is superb. There's no getting away from it. They are not one of those hosting providers that try to please everyone, they are for people who are serious about their websites. They really deliver, in every aspect and most importantly, they're not overly expensive. They represent real value for money.
Cloud-based web hosting providers are becoming increasingly popular. That's where Cloudway comes in. Cloud-based hosting offers great performance and flexibility. But, they're complicated beasts. They need a lot of technical know-how to setup and manage. But that's where Cloudway has been smart because they've gone right ahead and built their reputation on being a managed cloud-based hosting provider. The best of both worlds? Let's find out.
100

Performance

100

Accessibility

91

Reliability

90

Cost

95

Service

Overall
Detailed Review of Cloudways Hosting
Cloudway offers something a little different. For a start, they aren't US-based, but rather, based out of Malta. Founded back in 2011 by Pere Hospital, Aaqib Gadit, Uzair Gadit and Umair Gadit, they have additional offices in the middle east, UAE, and another location in Europe. Spain. But that's just the administrative side to the business, they have data centers all around the world.
The Maltese company has had a very clear goal right from the beginning. They want to provide cloud-based hosting that offers both convenience, and ease. The company has gone from strength to strength. In the last year alone, they've seen over 500% increase in sales. The world has finally cottoned on to the fact that managed hosting is the way forwards, especially WordPress hosting.
Being a managed hosting service, there's a major emphasis placed on customer support. They go above the beyond the expected levels of service. Besides offering their managed hosting, they do their best to offer to be a resource for the general good. Their blog is particularly active with interviews from industry leaders and a broad spectrum of how-to guides and reviews. They are big news on social media too.
Cloudways Features
Speed
Every hosting provider needs to have a focus. To do something that differentiates them from the competition. And boy is it competitive. Cloudway is no different and they've decided to make it their goal to be one of the quickest on the market.
Every managed hosting provider is always going to be quicker, because there are tweaks that could be done to any server and website that's going to make a significant difference, all you need is the technical knowledge and that's the whole point of having a managed host.
With Cloudway, we've seen some extraordinary results. In terms of page load speed. As a starting speed, the average across the various package is around 0.65 seconds. For this level of hosting you should have 1 second as your benchmark and Cloudway are significantly quicker than that.
But then, their managed hosting kicks in and they start to refine that making it quicker and quicker. We've seen page load speed of 0.3 seconds or less. That is pretty much instantaneous. It's lightning quick. I can't say there is no hosting quicker but it's so fast, you won't notice it if it was. And as it's managed, as your website develops and grows, you have the expertise on hand to keep manipulating the features to optimize for speed.
Reliability
Another benefit of choosing a managed server is the reliability. For a start, being cloud-based helps. As does having a technical team on hand, which is what a managed host affords its clients. You can expect real-time monitoring with technicians onsite at the datacentre.
They are there to foresee potential problems and solve them before they happen. You also get access to real-time monitoring to have an instant snapshot of your usage 24/7. Having that kind of information at your fingertips allows you to really manage your websites in real time.
They have 25 data centers around the world. That's superb for latency, but it's also a great asset for reliability. We're talking top quality technology, both hardware, and software. They have all the infrastructure in place to ensure they have perfect reliability. And they do. 99.99% uptime. It doesn't get any better. If there's a hardware issue, they have it replaced in 30 minutes.
As fast as their hosting is if the website is not online then what's the point? Uptime is critical and with Cloudways in your corner, it's never going to be an issue.
Customer Support
This is a managed hosting service. Managed literally means you should be inspecting impeccable customer support. Cloudways don't disappoint.
The support is delivered via live-chat and ticketing, plus a large knowledge base. Personally, I like to be able to chat to someone, it's a personal thing. But besides that, it's comprehensive.
They go out of their way to not only answer any questions you have, to be reactive to your needs, but they are actually proactive. They look for ways to make your hosting better, and quicker. This is ideal for clients who have very little technical know-how. You don't need to concern yourself, Cloudways almost offer you that team member who has the technical expertise to manage your hosting for you.
Conclusion
Managed hosting is becoming the hottest form of hosting in 2016 and 2017. That's because, for a small but affordable increase in cost, you get so much more from your hosting. You should expect better page load speeds, more reliability, and better customer support. It's perfect for those website owners who have very little technical knowledge about hosting.
Cloudways are really at the forefront of the change. They've made their managed hosting a cloud-based service. It means an increased level of flexibility as to server location, that represent less lag time. Again, another way to increase speed and performance.
You also get maximum reliability, and customer support that's shared hosting can't get near. Cloudways are based out of the beautiful island of Malta, with offices in the middle east and Spain. But it matters very little because they only offer cloud-based services. With Servers in 25 countries, that's all that matters.
Straight talk for a minute. This is an excellent hosting provider. One of the best we've come across in a good while. They are right up there with WP Engine and FlyWheel. They have affordable packages, and it's very scalable. It can grow seamlessly as your business grows.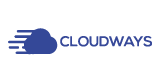 Contact Details
Hosting