The Best Minecraft Hosting Companies of 2020
Are you looking for the best minecraft hosting company? If so you have to the right place we have created a list of hosting providers based on DDOS Protection, Low latency, Instant setup. Our list should give you the smoothest and best experience when playing Minecraft with your friends.
Minecraft is a giant of the gaming industry. It almost single handedly revolutionized gaming as we knew it. In 2009 the game defied convention and transformed the entire gaming community. I doubt the game's creator (Markus Person, or Notch) had any idea just how big a monster he'd created.
Even for 2009, the graphics were really basic but it was the capacity of the multiplayer option that made the game special. In fact, 100 million copies were sold and still there are 33 million online users worldwide. It's those 33 million online users that have you reading this review today. When you have online users, you need to be able to host the game for people to play, to build communities, and to do that you need a server that's configured for running Minecraft. Or as gaming sites like Breech have pointed out, you can use servers to tailor the game to your own taste.
A lot of people love the idea of hosting their own game, their own community or clan, so they look at hosting servers.. We understand what's important in a server, we know we you need even if you are not sure. So, we've sifted through the options you have and we've picked out the top 3. As you can imagine, there's a lot of options to choose from and their quality ranges from top notch all the way day to outright scandalous. We've picked out the best for beginners, and a couple for those who know what they're doing. We've saved you a headache and done the hard work for you.
Best Minecraft Server Hosting 2020
From our research here is the best Minecraft server hosting 2020:
ApexHosting
Shockbyte
Nitrous Networks
GameServers
Name
Features
Overall Rating
Link

Nitrous Networks

Best Minecraft Hosting Pick

Rating

95

Visit Site




Apex Hosting

Exclusive Hosting Pricing

Rating

94

Visit Site




Shockbyte

Cheap Minecraft Game Hosting 2020

Rating

93

Visit Site




Gameservers

Best Hosting For Minecraft Modding

Rating

90

Visit Site



The Best Minecraft Hosting Providers
From our Expert Opinion here is a list of the best Minecraft host providers:
Apex Hosting

Nitrous Networks

Shockbyte

Gameservers
Shockbyte Hosting
Shockbyte gives you a user friendly control panel to give the best minecraft server hosting experience. We actually use there server hosting ourselves and the SSD storage that they provide is super quick. We are able to edit mysql databases super quick when we are changing ranks of our admins. Shockbyte also provide a backup feature which makes sure that your creative or survival minecraft world always is backed up.
Shockbyte gives you full ftp access to your server so it is super easy to upload mods & plugins to your server which is always a plus.
Another thing that we looked at when reviewing shockbyte is low latency and we can say when we stress tested the server the latency and ping was always really good at peaks our players only had a ping of 25 on the server which we thought is really good!
Game Servers Hosting
Whereas Enjin really specialized in creating a CMS and hosting service specifically for Minecraft, Gameservers is an all-round player in the game server hosting industry. They can help you with everything from Call Of Duty to Rust. And of course Minecraft. Some of the top clans online today use GameServers.
They like the scalability and they love range it offers. It's not bespoke to Minecraft but it has a lot of the same features, some are simple 1 click installs, whilst others are 3rd party and require a little bit of work, but by no means are they overly complicated and off-putting. Plus Gameservers has good support. It boasts of being 24/7 and I've not found anything to doubt that. I've also found that answers to questions have been received in 4-5 hours, which is pretty reasonable.Plugin options.
Just was with Enjin, most users are going to want to monetize their site with donation stores and the like. Although they're not integrated into the CMS, they're really easy to integrate and there are a load to choose from. The sky's the limit really which means you have the flexibility to create your website and in-game experience to be exactly as you want it.
Just a handful of some of the more popular plugins includes: Tekkit, ChestShop, CommandBook, iConomy, Essentials, GodPowers, Factions, McMMO, WorldGuard, WorldEdit, and more! You even have the ability to upload your own custom plugins!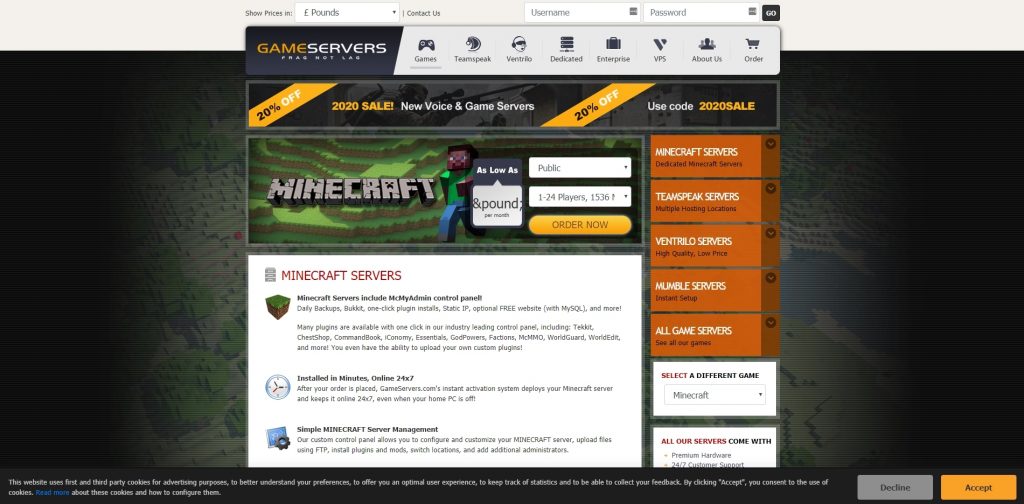 In-Game chat
A major element of Minecraft is in-game chatter or TeamSpeak. For many, it's the reason they end up playing multiplayer games. You have to love Gameservers because they've not just got you covered, you have 3 choices: Teamspeak, Ventrilo, Mumble. You can pick your preferred platform and have a server in place specifically to manage that, and pick a server that's geographically close by.
Gameserver really have their finger on the pulse when with in-game speak not just because they have 3 options available, fully integrated and easy to setup, but they also offer FREE switching between the different servers. You can change at any time and get the same geographical coverage.
Additional features
There's so much that good about GameServers, so many functions and options so you can create the community you really want. Here are some of the highlights.
About GameServers
They've been knocking around the game server hosting industry for 6 years now. They can boast 400,000 customers which is no insignificant number. They are well trusted by game developers, to the point that they are often in communication with game studios including Infinity Ward (Call of Duty Modern Warfare), Treyarch (Call of Duty Black Ops), Tripwire Interactive (Killing Floor), Epic Studios (Unreal series).
24/7 Customer Support
Gameservers have taken the decision to staff their customer service with around the clock support team. Things generally run well, but they understand how important it is to keep game servers live and online so they have a team that's always available to fix or irons out any problems as quickly as possible, which is one of the reasons game studios look to work directly with them for the multiplayer functionality.
Server Network
One thing you'll find everywhere on the GameServers site is their list of 36 servers worldwide. That's because it's a big deal. A critical part of a gaming online is removing lag. You want everyone to be playing in real time, as much as possible. Having the right server location helps with that.The closer a server is to the user, the quicker the website loads, the quicker the game loads and the closer to 'real time' you're going to be, and the better the gaming experience.
What Gameservers offers that really makes a difference is that they have 36 server locations which offer superb infrastructure, but what really makes GameServers special is you get to switch between server locations for FREE. Your choice is not set in stone, and you're not going to be punished for changing your mind. You can change the location of data center up to 4 times a month, per server.
Some hosted communities are free and the host monetizes the site with in-game donations and a store. Others want to create a community that shares the cost. That's one of the options that GameServers is able to offer. The clans is able to share the server payment. You will get your own page to make payments from clan members with by major credit cards or via Paypal. It's just one the examples of GameServers looking to make your life easier.
Pricing
GameServers offer a scalable pricing model that starts out at a few Euros a month. It scales up as your users increase, which is a great model if you're looking to share the costs as a clan. If you have a massive community it's going to get a bit steep so you need to bear that in mind.
Similarly, with a server for in-game communication such as Mumble or TeamSpeak 3, you're looking at a sliding price depending on how many slots you need. Starting at 3-4 Euros per month for 10 slots, to 50 Euros for 250.
Summary
GameServers is a very different proposition to Enjin. You get far more flexibility and scope with GameServers because it's not a service that focuses on Minecraft but offers game server hosting for the most popular multiplayer games available today.You get access to hundreds of plugins, many are one-click installs, to make life easier if you've limited technical experience this is a big plus.
Unlike Enjin it's not integrated nor does it have a web builder, or integrated forum, but you get a great platform that offers a lot more freedom.It's horses for courses. In other words, it really depends on what you need from your host server. Enjin is by far the best choice for someone who really has a limited amount of technical knowledge, it's all integrated for you. But if you have a vision, and you want more flexibility to create that vision this should be your choice.
Their server network is pretty impressive. Servers in 36 locations across the planet. You get to pick a server location and change it time and time again as your needs change. That's for FREE, which is a great value. Similarly with hosting servers for in-game communication platforms including TeamSpeak 3, Ventrilo and Mumble.you get 3 options. Again what really shows that GameServers listen to the gaming community and understand what's important is that they allow switching from one to the other for FREE. Pricing is affordable and scalable so you can start at a really cost and get more functionality as your community grows. It also allows "Clan Share" which means you can share the cost of the hosting server as a community with everyone having access to the server's payment gateway.
Our goal when making this list of our recommendations for servers is to cherry-pick the best regarding categories. When it comes to someone looking for a hosting who has some experience of hosting services or websites, or they have a very clear picture in their mind and want the freedom to create that vision then this is should be your go-to server host. If you're a little 'greener' and want something that's easier to set up, from a beginners perspective, Enjin if your best option.
Minecraft Server Host (minecraftserverhost.net)
If you're looking for a host that's been around since the launch of Minecraft then you're looking at one of the first. Minecraft Server Host was hosting multiplayer games right from the Alpha release 2010. What you get from Minecraft Server Host is that they love the game, you can tell, and it makes a difference to the quality of service you get.
They offer packages that cap the server nodes so each customer gets their full allocation of resources, which means you won't lose out on performance because another user is overburdening the server. Having that cap means the service is not the cheapest available but it does mean you are guaranteed to get a consistent level of performance.
Server Performance
This is where Minecraft Server Host stands out. They place half the number of customers on a server node than the industry average. They put quality before profit. On a standard hosting provider, you could expect anywhere between 50-100+ users on a server node, so when everyone is active, things slow down. The business model is cheap but substandard. Minecraft Server Host is a little more expensive but you don't get substandard performance, users are limited so you get the full power of these top of the range servers.
Additional features
Sometimes you just need the very best. When it comes to performance that's clearly Minecraft Server Host and here are some of the features that you really should be getting excited about. We are.
The Servers
You have to be careful when picking a hosting server because hosting Minecraft requires a lot more resources than your run of the mill server that spends its day hosting websites. Minecraft Server Host does this better than most we've reviewed which is one of the main reasons it made the list. Over the last 3 years or so, they've upgraded their server's hardware to an industry-leading processor like the Intel Xeon processor and super high powered SSD drives. Make no mistake about it. SSD drive makes a big difference to load speed which will affect the game's ability to run at 'real-time'. SSD drives are quickly becoming standard technology.
If you're using a hosting service that doesn't have SSD drives then you're already out-of-date, you just don't realize it yet. Each machine is isolated and doesn't share operating system files with other services hosting Minecraft. To maintain that performance and keep stability, each operating system is Linux. For some, this is important, for others, it just goes over your head, which is fine too. If you're not sure why it's important you can either take our word for it or head over to Enjin which takes away the need to know all this by providing their own CMS and having their service fully integrated.
Network
Very similar to GameServers, Minecraft Server Host takes their network very seriously. They know latency is a big issue for gaming so they have created a premium network with data centres in Dallas, Los Angeles, Tampa Bay, New York City. They don't have the same reach as GameServers with their 36 locations but that is offset by the quality of their hardware.
Pricing
Minecraft Server Host offers 3 packages depending on the size of your community. The Lower package is limited to 50 users, the next package up has a limit of 75 users and the top-level limits the users to 100. Prices range from $29 to $49 so even though they may not be the cheapest hosting provider, and they have spent a lot more on infrastructure and performance, still, it's a reasonable price.
Summary
Around 3 years ago, Minecraft Server Host made a decision. There was an influx of specialized Minecraft or gaming host server providers hitting the market. Most were promoting the 'cheap and cheerful' packages.
They decided they wanted to something really different, they wanted to provide a service that is better than 99% providers out there. You might need to spend a little more but you're going to get a far better service. They upgraded their servers, making them top of the range, created a network of data centres, and embraces SSD drives, the future of hard drives and so much faster than standard options used by most other game host servers. If performance is important to you this should be your go-to host provider.
They know what they're doing, they've been hosting game servers since the launch of Minecraft. They don't have some of the integrated features that other hosting providers have so they're not as easy to navigate for beginners but performance-wise, they have no equal.
Enjin: Fantastic for beginners
Enjin are proud proprietors of a purpose-built Minecraft CMS. They built it from the ground up, with the specific goal of creating the ultimate content management system for managing a Minecraft Server community. It's pretty awesome, as most purpose-built systems tend to be. It's highly sophisticated and has been built so you don't need to be a NASA scientist to work with it. They've made it pretty customizable and they're continuously adding and fine-tuning it. It's not perfect, but it's a really good place to start especially if you're a beginner.
Bukkit Donation Plugin and Bukkit Donation Store
With Enjin, you get your hands on the Bukkit donation and donation store at the really attractive price of FREE. Whether you come with the idea of monetizing your community or it's just a perk, this particular plugin is going to become a good friend. The plugin speaks to the server when someone buys items or those items expire. It also does a load of virtual housekeeping like syncing access tags and powering your Minecraft relevant apps.
The plugin does a load of work for you, and it's connected to a bunch of payment processors including PayPal 2Checkout and Onebip. Particularly neat are the features that allow you to set up limitations on some of the items so they expire, it means you have a chance for repeat sales. You can also set up coupons too.
It doesn't take a technical genius to get the plugin setup and purring. I've had a search around the forums and there are very few problems raised but they look to have been solved pretty quickly. When you take into account that there are 20,000 admins, just having a handful of problems is good going and if you're technically limited, you should take heart from that.
Additional features
Enjin has a lot to offer, here are some of the features that are worthy of your attention. One of the reasons why Enjin is one of our favourites is because all the features are integrated so you don't need a lot of technical expertise.
Votifier Enabled
For multiplayer Minecraft users, being able to vote for diamonds or rewards is a big deal. This wasn't something that Enjin was going to bother with, they had some 3rd party scripts but with such scripts, you need a little technical ability so it wasn't for everyone. Users gave their thoughts on the subject, Enjin listened and now they have the Votifier fully integrated with their purpose-built Minecraft CMS. By all accounts, it's also easy to set up and runs. Not only can you vote, but you can also see who has voted and there are a variety of options to rank voting and voters too.
In-game Sync
You are going to need to be able to sync between your website and in-game server. If you have no idea what I'm talking about, the good news is you could probably live a hundred years and not have to understand any more than the fact it's needed and Enjin does it for you. Sync and mimic access between your website and in-game server ranks, both ways!. Our plugin will do all the work for you. Get fine-tuned control and sync abilities to everything between your website and server. Need to auto rank a user after they register on your site? np! This feature is amazing for managing your users and the link your server directly to your website. Setting it up was extremely easy and worked perfectly. Of course, if you have any issues with getting both of these plugins to work all you need to do is post on the Enjin forums and you will get support quickly.
Minecraft Forum
You can't have a Minecraft community or clan without a forum, a complete waste of opportunity and the good news is, you really don't need to worry about it because Enjin has got you covered. Their forum happens to be light years ahead of some of the others, it's integrated with the server and in-game server, it's part of the rank management and uses 3d models.
Multi-Server Support
Scalability is not a problem. You can add up to 10 Minecraft servers to a website. You can sync your plugins with all of them and manage it all from one place. You can have simultaneous donation stores and rankings for each server. Enjin are not being unique here, a lot of Minecraft server hosts will offer this kind of feature, but Enjin's integration makes is so much easier to manage and make the whole thing really easy.
Enjin are not being unique here, a lot of Minecraft server hosts will offer this kind of feature, but Enjin's integration makes is so much easier to manage and make the whole thing really easy.
Pricing
If you want to keep it nice and simple or it's an experiment for you, there's a FREE option, which is always nice. From there, they have 2 packages 'Advanced' and 'Ultimate'.The advanced package includes access to the Mumble server to set up Teamspeak. You also get some more file storage and mobile forums. It's around $10 which is not a major investment, especially for what you get.
The Ultimate package is just a 'Supersize me' package. You get much more Mumble server access, more automation, more DDoS protection and the likes. If your community builds into the thousands and you start running multiple game servers from the site, this is for you. It's around $30 so hardly going to break the bank.
Website builder
There's plenty of technology out there that means you don't need to be able to write code to create attractive websites, and it's good to see that Enjin has implemented some of that technology with their own builder. They also have a bunch of themes that are editable using a builder that's really easy to get the hang of. It means you can be creative and make the theme your own without needing to write any code.
On the other hand, if you do like to create websites and you have the skills to write your own code, it also allows that too so it's pretty flexible.
Summary
Enjin doesn't just do everything you need, and more. It does it such a way that it makes it easy to use and intuitive for even those with limited technical know-how. You can be a lover of Minecraft and set your own community up without needing to worry about the technicalities too much.The forums are the best around and fully integrated, especially if you get the paid version where you have the mobile friendly forum version. All packages have plugins for donation stores and votfiers so you can increase engagement and monetize your community.Enjin is a cool name. Cool site, but most importantly, a really cool product and service. They lead the way in Minecraft server hosting and should be your first choice.
Which Minecraft Host Server is right for you?
We'd love to whittle it down to just 1 pick, but needs vary so much, that we've had to choose a top 3. Enjin does a heck of a lot and is set up to provide a great service. But you can't rule out the performance of Minecraft Server Host it's exceptional. And finally, GameServers are perfect for those who really know what they're doing and want a whole bunch of advanced features.
???? What Is The Best Minecraft Server Hosting Company
We have reviewed over 50 Minecraft hosting companies and collated a list of the top 3 which we think our the best performance and price.
????How To Start A Minecraft Server Hosting
1. Initially you need to buy a Minecraft host from a provider.
2. Once you have the server setup you can set your self up as an admin on the server.
3. You can also install any mods on your server by using one click installers
???? Is It Easy To Setup A Minecraft Server?
Yes when we reviewed all of the Minecraft hosts we took into consideration how easy setup and installing the server is and all 3 hosts we have picked have 1 click installer features so it is super easy.