A2 Hosting is a very reputable hosting provider that looks to deliver a good service at a good price. Now affordable doesn't have to mean poor quality. A2 does not scrimp and save over customer support, a usual strategy for many budget hosting providers, but rather, they have a highly rated support system that covers live chat, phone, and a ticketing system – With trained, US based support agents.
They also offer very competitive pricing, which can get you unlimited domains, bandwidth, and disk space for under $5 per month.​ If your budget is tight, this should make you stand up and take notice! To top it all off, A2 offer a 30 day back money guarantee if you aren't completely happy with the service you got, you can walk away with your money back. But that's because they know they deliver a great service so why would you want to leave?
80

Performance

85

Accessibility

80

Reliability

85

Cost

50

Service

Overall
Detailed Review of A2 Hosting
A2 came into the industry in 2003 and they came swinging for the fence, being able to boast page load speeds up to 20x faster load speeds, right from the start. That's 20x faster than other shared hosting providers, all due to their clever server infrastructure and custom developed software. The slogan A2 uses is "We provide services that we would want to use ourselves!". They have become a very serious contender very quickly, and they haven't looked back. In fact, they've gone from strength to strength by focusing on performance and support.
They quickly made a name for themselves with load time tests showing speeds of under 1/4 of a second. Yes, you heard right, under 250ms. Under 3 seconds is acceptable, 2 seconds is good, so by that standard, less than quarter of a second is simply staggering. With these kind of speeds, their popularity with subscribers increased and increased fast!
InMotion Features
Speed
As I said earlier, we don't just go on gossip and reviews that you have no idea knowing whether they are real or created to look good. We decided test A2 Hosting ourselves and we thought the best way possible was to test it on this site right here. So we decided to temporarily move this site from our usual host over to A2 in the name of science.
As soon as we made the transfer we immediately had a nice surprise. We actually saw a faster load time on the A2 hosting, even without the Turbo Boost enabled on the site – See the results from the test in the image below. No it's not a mistake, it's that fast and if you haven't been taking A2 Hosting seriously before now, this is going to make you stand up and really take notice.
Reliability
A2 Hosting has one of the highest uptimes we have ever recorded We tested this site on this host for a significant amount of time to get a serious set of data to be able to give an honest and accurate opinion. Actually over 6 months. And during that time we suffered from 0% downtime. For over 6 months, that's unheard of, it's that good.
I know it doesn't seem to make sense that the result is 99.99%, a result that many sites claim have as an uptime average, When we experienced zero downtime, but it's pretty much impossible to have a 100% uptime all of the time, so 99.99% is the highest possible score you can receive. Which A2 have managed to achieve, which is very impressive for a medium sized company. When you see the claim of 99.9% Uptime there is always some room to move on the claim. A little wiggle room, if you will. A2 hasn't let anyone down and as stated above they are actually running at a rate above their claim, which is very rare indeed.
A2 Hosting is proud to say, they're going green! A2 is heading towards a more effective green hosting service provision, proudly partnering with Carbonfund.org. They have joined the battle against climate change. ​Partnering together since 2007 A2 is a conscientious business that is focused on reducing their footprint. The services provided by A2 hosting are 100% carbon neutral, they re-purpose older hardware and have many internal green office processes. We are big fans of businesses that have a focus on changing the way their business interacts with the environment. Supporting businesses that are making the effort is our own way of making a difference.
Customer Support
In actual fact, from our experience of hosts, which is vast, A2 are one of the only companies on the market that offer 4 different layers of support communication: 24/7 phone, ticket system, live chat, direct email.
Their team is also made up of very technically knowledge people – Which shows when you go to them with some of the trickier questions and get the support you need. Of course, we tested them for you. They replied to all 4 levels of communication within a 15-minute window and quickly resolved server side issues. Anyone who knows me understands that customer support is a big issue for me. I really value my time and so spending time waiting for a ticket to be answered or a call back just frustrates me no end.
Free Manual Site Migrations. A good added bonus for anyone thinking about moving a site to A2 ​is that there support team offers free, manual migration – This means your site migration will be handled by someone who's done hundreds (if not thousands) of them before. If done the right way, there shouldn't be any technical problems, but not everyone has the technical expertise and might have to find a freelancer who claims to have it. Leaving little to no risk of anything going wrong during the site migration, using their team who are verified experts, not only with migrations but with the A2 platform just makes perfect sense, especially as it's FREE. It's a sign of A2 Hosting going the extra mile.
​The knowledge base is not as extensive as other hosting providers. This might be attributed to having very knowledgeable support staff and have decided on incurring the extra cost in having them more readily available to support their customers. The knowledge base is a good reference point for when you have to fix problems or want to know how to do a task following best practices. Although limited in its scope of support, the layout of the knowledge base is very easy to navigate and you won't have a problem finding information that you search for. It's all pretty intuitive.
The combination of super helpful customer support staff and the knowledge base and you should have everything you need to troubleshoot problems.​ They are one of the best hosting providers when it comes to customer support, especially in the price range.
Conclusion
"A good hosting option for people that plan to scale and want to stay with one host!"
​We have been doing nothing but praising A2, so you might be wandering why we haven't gone the whole way and given A2 a well deserved 5 star rating? For a start, we have extremely high standards. In this case, the only thing holding back A2 hosting with comparing to some of our best alternatives is price. A2 is actually a little bit more expensive than others who are currently competing for your attention. Their plans are a touch more expensive than the industry averages, causing us to hold back on our 5 star rating because we appreciate to some, it's an important element to their decision.
A2 are almost a victim of their own success. They offer so many additional features and over deliver on support services, that it puts them in the position where they need to charge a little bit more. Having said that, you get what you pay for. You are essentially paying to get access to more resources on a server than you would not normally get from other shared hosting providers. They limit the number of accounts to guarantee you a better and more consistent level of performance. You do get more than you paid for, which is not a bad thing.
Here is the indidviual pricing for each of the shared hosting plans:​
Lite Plan, From $3.92/Mo – One domain, unlimited storage on a solid state drive, unlimited bandwidth and up to 5 database installations.​
Swift Plan, From $4.90/Mo – Unlimited domains, unlimited bandwidth, unlimited storage but does not include the Turbo Boost software feature which allows for up to 20x faster load times.
Turbo Plan, From $9.31/Mo – Exactly the same spec as the swift plan but with the "Turbo Boost" and "A2 Site Accelerator" software enabled to help achieve faster load times.
All in all, a good solid hosting provider that are well respected and who's been around long enough that you can rely on them. There are faster and we have 3 other sites that we've given higher ratings but they year on year find their way into our top 10.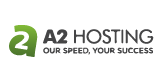 Contact Details
Locations