A Small Orange Hosting are unlike any other hosting provider. The bright splash of orange that you see reminds you of A Small Orange days after you leave their website for the first time (believe me).
Founded in 2003, the under the radar hosting supplier has been a reliable solution for those wanting a slice of hosted paradise. Do they deliver or is this just a clever gimmick? we give you the low down in the hosting review. We were completely surprised with the results.
80

Performance

85

Accessibility

80

Reliability

85

Cost

50

Service

Overall
Detailed Review of A Small Orange Hosting
A Small Orange gives traditional website hosting a splash of color. Standing out from a crowd in bright orange has proven a successful marketing tactic for A Small Orange. With a very good marketing campaign you need to have an equally complimentary product delivery to be successful. A Small Orange Hosting does deliver the goods, you're going to get a good solid hosting provider that has been in the market for 16 years and are someone you can rely on.
They offer massive money back guarantees, whereas some well respected hosting providers are willing to offer up to 90 days, A Small Orange offer a longer than most 90 day refund, not because the service is poor but to provide more trust towards their customer. I like the forward thinking offer, confidence in your centre of excellence shows the market that you are serious about quality service.
While these benefits are definitely big ones to consider if you're on a budget, or if you're looking for a company that cares (their datacenters are green friendly), as hosting nerds we here at Bitpak are also concerned with the technical specifications of a host, and therefore the performance they can offer.
Without question A Small Orange is committed to improving their already solid service. Utilizing a robust hosting environment suitable for all requirements means that the equipment must be administering first class quality. Using enterprise class hardware, A Small Orange unleashes their fully SSD driven storage redundant RAID 10 arrays and Intel Xeon E5 Dual Hex Core processors. There are some big competitors in the hosting space and what A Small Orange does to stand out is deliver quality services over a quality product while remaining real about how they operate as a business.
A Small Orange flies under the radar on so many levels. Unless you have been referred by a friend or drilled down into researching hosting providers, you might of never heard of A Small Orange hosting.
If you're looking for a solid host that offers different packages for businesses and entrepreneurs of all sizes then you'll definitely find something that works for you, whereas with some of the high-performance oriented hosts you'll likely not if you're a smaller business that's still scaling.
A Small Orange offers the following website hosting options in store.
Shared hosting
WordPress hosting
Business hosting
Reseller hosting
Cloud VPS hosting
Dedicated hosting
Clemented hosting​
ASO offers a wide range of hosting options to their customers, but due to their philosophy – none of the hosting plans are ''unlimited'' because they believe they should only provide you with the resources that you need so that you don't have to pay for extra resources that you don't really need or may actually never use. I can be honest with you and say transparently that I've fallen for the "unlimited" and "unmetered" plans before. With regards to these seemingly endless supply of bandwidth and resources, some of my websites have never even scratched the surface of the lowest shared hosting account limits….sadly.
Features A Small Orange Nails
Speed
Looking at A Small Orange I did not expect them to be anything at first glance. I was blown away at several performance factors, firstly the load speeds were triple what i was expecting. Now I've said this let me clarify, for a standard website using compressed images and sitting at 100 pages the performance was impressive. If I was testing with an ecommerce website with 10,000 pages it could well be a different story.
​When we looked at 3 competing hosting providers we noticed that A Small Orange was hanging right with the bigger names. With the top of the line provider coming in at 1.5 second load time, A Small Orange was sitting at the 2/2.3 second load time. Results like this make me excited, very impressive considering who we were benchmarking them against.
We want to reinforce the importance of page load speeds in this section. Every time your visitors see a spinning load wheel almost half of them will leave your website. Your hosting provider plays a vital part in this, having a decent host will give you the power to load in seconds. A Small Orange has a decent load speed when compared to other providers within the industry.
Reliability
Uptime with A Small Orange is off the charts actually no its well on the charts 99.93% of the time. Where A Small Orange exceeds is its reliability, the uptime is on the average 99.93% over 3 months of testing. If you were doing some viral marketing you may want to consider the larger hosting packages, when those spikes in visitor traffic come in. Taking the smaller packages allows for a steady flow of traffic to continue without effecting your website.
Strategically located datacenters in the United States. Using the east and west coasts of the US A Small Orange covers all points. Reliable hosting that provides the best possible speeds and connectivity. There is a word of warning I would like to point out, if you breach your hosting plan's allocated limit the company takes drastic action. You may end up with a suspended account due to going over your limit. The sign up policy leaves no room for negotiation about this clause so monitor your bandwidth usage to avoid this.
You need to be online all the time, that's what installs confidence in consumers. This means that if you're looking for a host that provides reliability over speed, then A Small Orange is going to be your go-to provider. I am singing the praises of ASO reliability.
Customer Support
The customer support I received with A Small Orange was impressive compared to industry-standard times. The actual knowledge of the support team was decent and I was not pin-balled from team member to team member, that was a nice experience. Live chat worked really well for me with my questions resolved with a couple of interactions by the chat team member. I really like how I was supplied reference links to the knowledge base for future troubleshooting.
You'll receive outstanding customer support. Unfortunately on their shared plans you'll likely receive the same kind of customer support you would with any other host.
Do they need a telephone number to be effective with customer support? no I don't think so. The live chat and email support is enough to get most queries and problem solving escalated to the correct teams. They are instantly contactable and have offices on the west cost AND east cost, offering 24/7 direct customer support. They very open and make it easy to complain or escalate a problem if you don't feel you've received the support or fix you deserve.
If it wasn't for the fact that they don't deliver the same level of support for their shared hosting customers, those who choose the less expensive packages, we would have given them a full 5 stars. We give A Small Orange a medium performance grade for customer support. I had a really good experience and I had a very average experience so 5 from 10 on customer service. Helpful support team and responsive.
Online Reputation
To this point my review has been a code green for the use of A Small Orange as my hosting provider. Even now I don't have anything bad that I can say about them, there is some negative reviews online. These reviews could be from any number of customers and we wont discredit their merits. Do your own research into the company and make up your own mind.
I have found the review experience to be a success. During this process I have been referred to and will now utilise this service a s preferred solution for hosting. ​Hidden gem of the month award goes to A Small Orange, why? for being something different.
Here is a fun fact for you: most of the major and popular web hosting sites such as BlueHost and HostGator that may seem to be fiercely competing with each other – are actually acquired and managed by the same single mega web hosting conglomerate.
Homegrown hosting, the orange falls close to the tree.
Although A Small Orange web hosting is not as well-known as other popular hosting providers, it certainly has about the same features and hosting plans as those other hosting sites. It is not often I get excited to review a lesser known hosting provider, but the more I asked questions about A Small Orange the more positive feedback I was hearing. Not being a mainstream hosting solution on the top of everyone's list is working as an advantage for ASO. This little gem can provide a quality service without attracting all the spammers and system abuser's that some larger players like HostGator for example would attract.
What does 'Homegrown' Mean?
This unusual tagline is closely attached to A Small Orange's logo the orange and is used often to promote their brand and hosting plans. But what does it really mean? No, it doesn't mean home-made hosting, it's just a marketing tagline that means they care about their customers and strive to provide exceptional customer service and support.
A Small Orange is committed to providing a reliable service. I felt that this image needed to be included and especially under the online reputation mentions. Im impressed with my genuine feel of the company, being part of EIG hosting group doesn't mean you have to loose your touch of realness. The feel I get is that A Small Orange wants to help its users by providing a solid service that just works.
ASO's top seller hosting plan is what they call 'the small shared hosting plan', at $5.45/month – these are the features included in this plan:
In addition to these great features, ASO states that all of their shared hosting plans include a 99.9% uptime guarantee (to be more specific, it's 99.94%, but that is still considered an outstanding uptime). Uptime for those who don't know is the amount of time your website is UP online, it is common for hosting companies to have a very small window of downtime.
Other plans include a free SSL certificate that ensures traffic to and out of your website is properly secure and encrypted. But this is usually not required for non-ecommerce websites and sites that don't collect sensitive user data such as user's credit card and financial transactions.
Lower Customer Densities
PCI Compliant Servers (payment card) regularly scanned
PostgreSQL Database Support
Email, IMAP, POP3 and webmail all included'
CPanel Included
There are some additional services that A Small Orange can provide to increase the features and performance of the website hosting expierence.
Additional Services:
SiteLock security add on starting at $20 annual
5 page custom WordPress website $799 one off payment
Easy to use drag & drop website from $11 monthly
Managed pay per click services starting at $250 monthly
Managed SEO services starting from $99 monthly
Looking at the extra services on offer the only one that I would consider would be using SiteLock to secure my website. The other services while helpful you will not need. The marketing services are quite cheap and coming from a website hosting company not a marketing agency so keep that in mind. The website build could be a benefit to you if you are not to technical with web design and development and its a one time fee.
I think hosting companies mean well by offering extra marketing services. When you think about it ​one of the biggest challenges that new website owners, bloggers, and entrepreneurs struggle with is actually getting people to see their website/blog. take the approach of where your skills would be best focused, building the website or marketing the website or like me writing about and creating content for my websites.
World-Class Hardware Specs
Most of ASO's hardware specifications are designed to ensure that your website loads faster to your visitors, even if they are based globally.
ASO only uses solid-state drives (SSD) servers in RAID-protected configurations – this can help increase your website's performance. Not only that but SSD servers also help tremendously with reducing your website's loading speed up to at least 300%.
Also, A Small Orange hosting claim that they only use the latest technology in processors, currently they use Intel Xeon E5 Dual Hex Core Processors, these processors help provide enhanced performance and capability to your website's servers and infrastructure.
What's more?
As I have previously mentioned, ASO has two distinct data centers based in the U.S. – and this can greatly help reduce page load speed and make your website load faster for visitors.
Conclusion
"A solid hosting option for business or pleasure, reliable hosting with added extras!"
​Could A Small Orange be the coolest kid on the hosting block? quite possibly so.
I first thought that A Small Orange would suffer the same as other hosts that had been acquired by the EIG Group. But I was mistaken, they seem to have been the only ones that have retained their unique personality. Competitively priced, crazy good uptime and blazing fast speeds. Im well impressed and did not expect the provider to be so awesome.
When I was recommended to try A Small Orange I was skeptical, just how good a hosting company could be that was named after fruit. Again I was surprised a this hidden gem, thumbs up and you can set yourself up quite nicely if looking to grow your business. Highly recommended and one of the top finds this year, Solid B+ from me.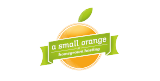 Contact Details
Locations